Welcome to Dongola Unit School District #66
One of our primary goals is for our district to be a community of learners and leaders. Our students will realize a sense of belonging and pride while growing intellectually, emotionally, and socially. We focus on the continual improvement of our district and on strong, effective communication among all stakeholders (students, teachers, families, friends, and community members). Efficient partnerships among all stakeholders is one of our highest priorities.
Please feel free to contact us if you have additional questions.  Thank you for visiting our website!
Notice of Public Hearing: July 30, 2019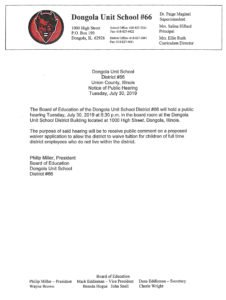 *PDF Viewer Required for this Document. When clicked, the link above will open in a new tab or window; to download and save/print, right click the link and choose "Save link as…" or similar (varies depending on browser).